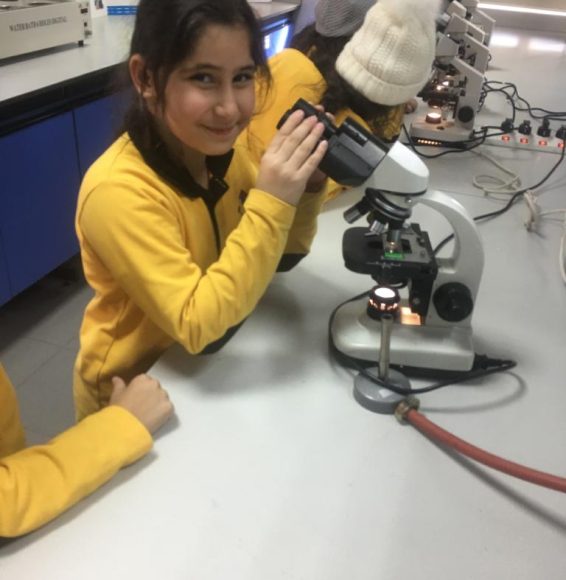 Curriculum
The curriculum is modeled on an integrated system (British/American), which has width and balance. It includes English, Mathematics, Sciences, Social Studies, French, Computer Studies, Music, Art/Craft, Physical Education, Islamic Studies and Arabic Language.  These subjects are given by skilled teachers using appropriate methodologies in order to promote enjoyable learning and encourage high standards of achievement from the students.
English is the medium of instruction for most of the subjects. The curriculum at primary, intermediate and secondary levels prepares the foundation for the students to join either:
Students sit for the IGCSE examinations which are administered by Cambridge / Edexcel boards and taken at the end of grade 10, and later students continue their AS and A-levels.
Students sit for ACT at the end of grade 10, and later sit for ACT General and AP.
International General Certificate of Secondary Education (IGCSE), General Certificate of Education (GCE) and General Certificate of Secondary Education (GCSE)/A Level are  balenced international curricula designed to encourage high academic standards through practical approaches to teaching and learning. The curricula are suitable for students of all nationalities and are ideal preparation for higher education. IGCSE is taught over 100 countries throughout the world and is recognized as qualifications for matriculation by universities in UK, USA, and many other countries.
The IGCSE/GCE certificates are offered by Cambridge Assessment International Education (CAIE), Pearson Edexcel and Oxford AQA exam boards and they have international credibility as educational qualifications.
What is the American High School Diploma?
The American High School Diploma (AHSD) is a school leaving qualification awarded upon high school graduation. The high school diploma is typically obtained after a course of study lasting four years, from grade 9 to grade 12 where the officially enrolled students in this program must satisfy certain requirements (credits and external exams) to obtain the certificate and the local equivalency duly.
What are the assessments the (AHSD) students can take at Al Ittihad International School?
Al Ittihad follows rigid and comprehensive framework to cover the requirements of the American High School Diploma in conformity with the Jordanian MOE and in alignment with the international accreditation agency Cognia which accredited our school in 2021.
All the students earn credits in the main subject areas, namely Mathematics (Algebra 1, Geometry, Algebra 2, Pre-Calculus, and/or Calculus), English Language & Literature, Sciences (Biology, Chemistry, and/or Physics), Social Studies, Arabic Language, Jordan History, and Islamic Education.   
Thus, the students in the American High School Diploma Program at Al Ittihad are expected to sit for the following international assessments whether for the sake of assessment or obtain their local equivalency and apply for the global universities outside Jordan: 
ACT International Subject Tests are end-of-course assessments that rigorously measure students' understanding of content and practices in each subject. Tests are available in the following subjects: ELA (English 1 and 2), Math (Math 1 and 2), Science (Biology, Chemistry, and Physics) and U.S. History / World History. The score is out of 36.
The ACT 1 or ACT General contains four multiple-choice tests—English, mathematics, reading, and science—and an optional writing test. These tests are designed to measure skills that are most important for success in postsecondary education and that are acquired in secondary education. The score range for each of the four multiple-choice tests is 1–36. The Composite score is the average of the four test scores rounded to the nearest whole number.
AP (Advanced Placement examinations) are exams offered in United States by the College Board and are taken each May by students. The tests are the culmination of year-long Advanced Placement courses. AP exams have a multiple-choice section and a free-response section. The score is out of 5.
Assessment and Reporting Procedures
Quizzes, projects and monthly tests are held throughout the year in each subject to monitor students' progress. Homework and class participation are also an important part of the assessment. Scheduled examinations are held at the end of each term.
Report Cards are issued three times a term with scheduled parent-teacher conferences during the year.  If a parent wishes to see any staff member, a meeting can be arranged.